Cuisine

Redoubt Mountain Lodge provides a unique dining experience where the menu, service and ambience compliment each other to achieve perfect harmony. Our goal is to match the unforgettable experience you are enjoying outside with an amazing dining experience inside. Our chef creates wonderfully balanced dishes to keep you fueled and feeling great throughout your stay.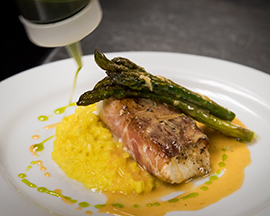 Dinners feature creations from freshly caught Alaskan Salmon & Halibut and the finest quality meats. Cedar plank Sockeye Salmon, prosciutto wrapped baked halibut, grilled filet mignon or rib-eye steak to name a few. Produce is flown in (almost daily) to ensure our guests are receiving the freshest ingredients. Homemade baked breads, pastries and desserts are always available.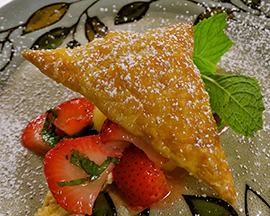 To start the day an elaborate breakfast buffet greets guests each morning with a variety of items. In addition to our buffet guests can enjoy a "made to order" breakfast. Pancakes with wild blueberries, smoked salmon quiche & Eggs Benedict are just a few to choose from.
Lunch is served back at the lodge and is a great way to to recap the morning with other guests. Weather always plays a factor in our menu so expect a meal that fits the day. Homemade soups & chowders, fresh salads and fruit, sliders, wraps, baked desserts and much more.
Our appetizers will delight you with local favorites of salmon lochs, reindeer sausage, crab & artichoke dip, bruschetta, calamari a la romana and a number of other specialties. Complimentary beer and wine is always available. We feature Alaskan brewed kraft beer on draft and a large selection of wine.
Redoubt Mountain Lodge can cater to nearly every dietary restriction. This can be identified in your completed Guest Information Form or you can speak directly with Ryan & Heather (lodge managers) about how RML can satisfy your food requests.
Culinary Delight @ Redoubt Mountain Lodge from Redoubt Mountain Lodge on Vimeo.